Panda Rose
Born May 28, 1998 GVHS Registration # GV00083F
Sid's Good Stallion x Rose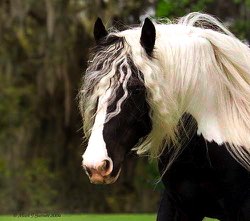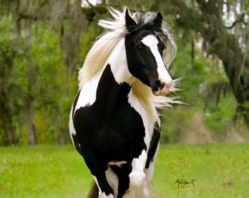 WR Panda Rose, our first Gypsy Vanner, can truly said to be an ambassador for the breed. Through photos on WR Ranch's web sites, personal appearances, features in calendars, books, magazines, and newspaper articles, Panda has been many people's first glimpse of a Gypsy Vanner Horse.
Widely considered to be one of the best Gypsy Vanner mares in the U. S., Panda's conformation is very nearly the ideal for the breed. She possesses the short back, apple rump, heavy flat bone, and abundant feathering which typify the breed. Although the Gypsy Vanner is not a color breed, the majority
now in the U. S. are black and white. Not only is Panda's pattern of spots one of the the more
intricate (see the Indian chief on her right side), but she is roughly 50% black and 50% white, the ideal Gypsy.
Panda was born in England, and we imported her in 2002, together with her 2001 filly WR Pie. Besides Pie, Panda's other foals are The Gypsy Queen (2000), WR Tinker Toy (2002), WR Rose Petal (2005), WR Heart Of A King, WR The King's Curtain Call, and WR April Rose (2006). Through them and through her foals as yet unborn, we expect Panda to have a major impact on the future of the breed. From her mother The Rose, Panda is descended from an old and highly respected line of Gypsy Vanner-bred horses, the Rose line, whose mares are noted for passing on their conformation and quality to their offspring. Panda clearly continues the Rose line tradition. Panda's sire was Sid's Good Stallion, a famous Gypsy stallion whose spectacular career was cut short in a tragic accident. His Gypsy bloodline is therefore now rare and much sought after.
We invite yout o visit our Gypsy Vanner farm located in NC & FL.