Born February 1, 1998 - October 22, 2017
GVHS Registration #GV00004F
Vardo Joe x Kathlee
In Loving Memory
Esmeralda has peacefully passed away. She was a very special mare with a gentle spirit who was always willing to do what was asked of her. Esmeralda was one of the first sixteen Gypsy Vanner Horses brought to America. She helped to introduce the Gypsy Vanner Breed to America at Equitana in 1998. In addition to the wonderful foals she produced she had many accomplishments
in the Driving World as a single, pair, tandem and a wheeler in our 4-in hand team. She taught Bill to ride and drive and with her calm spirit helped keep him safe. We were blessed to have had her with us for the past 14 years.
Rest in Peace Sweet Essy.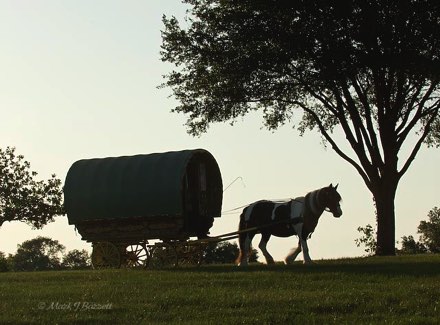 In 1997, Esmeralda became one of the first Gypsy Vanners to be imported to the U.S. from Great Britain by Cindy and Dennis Thompson, American discoverers of the breed. She and the other fifteen initial imports comprised the founding stock of the newly organized Gypsy Vanner Horse Society (GVHS), and Esmeralda was only the fourth horse registered with the society. On March 12, 1997, Bill and Joanne Thorup , owners of Bit A Both Farm, purchased Esmeralda and Jasmine, another of the first sixteen, from the Thompsons. The Thorups went on to show the pair individually and in tandem in numerous driving competitions, at which they excelled. At the 2003 Florida State Fair, Esmeralda, driven singly, placed first in the Working, second in the Turnout, and fourth in the Ladies Pleasure class. She and Jasmine comprised a Grand Champion Tandem Driving Team and made the cover of the American Driving Society's The Whip, the premiere magazine dedicated to driving.
Some of Esmeralda's Appearances in Print:
Horse Illustrated (her first foal was the center fold)
The Handbook of Breeds Book
2006 Horse Feathers Calendar
Western Horseman, Practical Horseman
Horse & Rider and Equus Farnam Ad