Gypsy Vanner Horses
WR Ranch
Gypsy Vanner Horses, Bill & Wendy Ricci Welcome You!
To best view this web site use Explorer, Safari or Firefox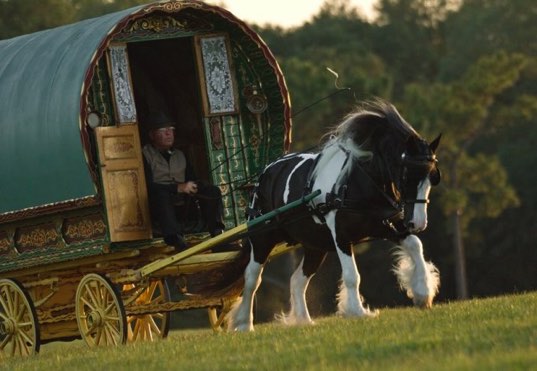 Both WR Ranch and our love affair with the Gypsy Vanner Horses began in 1998.
In that year, Wendy's brother and his wife, neighbors of the Thorups, took us
to see Esmeralda and Jasmine, two of the first sixteen famous Gypsy Vanner
Horses ever imported to this country. Thus began our search for the perfect
Gypsy Vanner of our dreams, and not until 2002 did we find her. In that year, we
imported the incomparable Panda Rose from England. Although we've
added others over the years--the adorable Tinkerbell and Kuchi, first Gypsy
Vanner born on U.S. soil--Panda was and has always been the crown jewel
of our stable. Mother of WR Ranch's gorgeous mare Pie and spectacular Gypsy
Vanner stallion Tinker Toy, she is the foundation of WR Ranch's signature line
of Gypsy Vanners--the Panda Rose line, an offshoot of the famed Rose
line. And, in 2004, our adventure came full circle. In a curious
twist of fate, we were able to acquire Esmeralda (2004) and Jasmine (2007)
the two whostarted us on it. We invite you to share this wonderful adventure
with us and discover the Gypsy Vanner Horse!
E-mail us at wjricci@aol.com We would love to hear from you.
To contact us about our Gypsy Vanner Horses please call (954) 540 5582
Request permission before copying Gypsy Vanner photos. E-mail
Many photos of the Gypsy Vanner Horses are Mark J. Barrett copyright.
To view Gypsy Vanner movies go to YouTube & search WR Ranch.
Founding Lifetime Members of the Gypsy Vanner Horse Society.